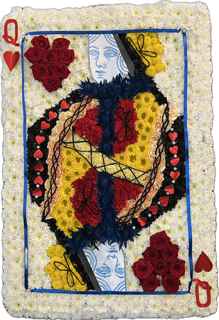 Pearson Funeral Service understands the importance of honouring your loved ones in a unique and personalised way. When it comes to designing floral arrangements, we take great care in creating meaningful tributes that truly reflect the individual being celebrated. Our team of talented floral designers can expertly incorporate any theme into a floral arrangement, ensuring a beautiful and heartfelt tribute.
The picture above shown the Queen of hearts, who typically love, affection and emotional love.
At Pearson Funeral Service, we believe that every life is unique and should be celebrated accordingly. Our personalised floral arrangements, crafted with love and attention to detail, aim to honour the memory of your loved one in a truly special way.